2018 Science and Tech Summer Camp (June 24 – June 30)
KICK START YOUR CAREER IN THE TECH INDUSTRY!
The 2018 Science and Tech Summer Camp is designed to give young people a head start on their peers. It is critical that young people immerse themselves in this field and think 20 to 30 years into the future. Tech is an industry that is not going away and students should not be waiting until they go to college to begin building their portfolio.
Camp Synopsis
Science and Tech camp is designed to help young people start the foundation for the essential elements to have success in this industry. The 7 day overnight camp is an immersive experience where students will have the opportunity to learn, network, and have a fun time during their break over the summer with the highlights including a visit to the World Famous Survios Virtual Reality Studios and a visit from Microsoft Representatives. Each day the camp will have different themes and focuses to make sure campers maximize the experience. For example, the first day the camp focuses on the history of science and technology. This information gives the students the basic information they should be thinking about if they want to make headway in this industry. Day two focuses on the different careers in the tech industry. You have your obvious technical positions that people know about and are competing for, but there are also less exposed positions companies also need filled. In day two we began exploring options and jobs campers likely never even thought of (See below for full agenda). The camp will provide plenty of time for learning about their career, getting more information on college (collaborations with Science and Technology), prepping for college living, positive social interaction with peers, and of course fun!
By the end of the camp the goal is for campers to have began or completed their portfolio, one of the most critical pieces to working in the industry. We also want campers to have a great overall understanding of what it takes to be successful in the industry and the best steps to get there educationally and developmentally.Through great fun (video games), we seek to engage students on a higher level to peak their interest and turn a passion into something they can do for a living.
What Young People Leave The Camp With
1. Portfolio – Campers will leave having created/modified/updated their portfolio. The portfolio is going to be the best tool available for campers to find employment.
2. Critical Information – Campers will be provided with information on career opportunities, steps to get there, education necessary, and how to stay ahead of the curve.
3. Networking -This is probably the most powerful tool when it comes to finding your career. The more people who can pull yo along the way the better! We want the students to visit different studios so they have an opportunity to meet people in the industry, face-to-face in their work environment as well as have an opportunity to interact with the proper departments on the college campus.
THE SCHEDULE
Below is a tentative schedule for campers. Subject to change.
Campus and studio tours TBD!
Everyday overnight campers will be provided with breakfast, lunch, and dinner.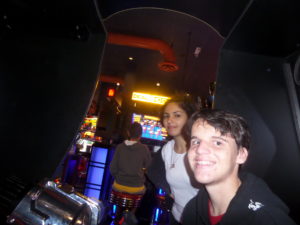 Day campers will be provided with lunch. (8am – 6pm)
As we get closer to the camp we will provide more details on tours, guest speakers, and off-campus events.
SUNDAY – FUNDAY – Icebreakers
MONDAY – The History of Technology/Video Games
TUESDAY – TOUR SURVIOS Virtual Reality STUDIOS
WEDNESDAY – MICROSOFT REP VISIT!!!
THURSDAY – When should and how should I go about pursuing work?
FRIDAY – Activities and challenges
SATURDAY – Wrap Up
CAMP PRICING
OVERNIGHT CAMPER – $1299
Cost of overnight camping includes a week of lodging, 3 meals a day, and all camp activities (On and off campus)
DAY CAMPER – $499
Cost of day camping includes lunch every day and the cost of all activities
Please call (323) 377-8356 or email dldedconsulting@gmail.com for specific questions or camp application.